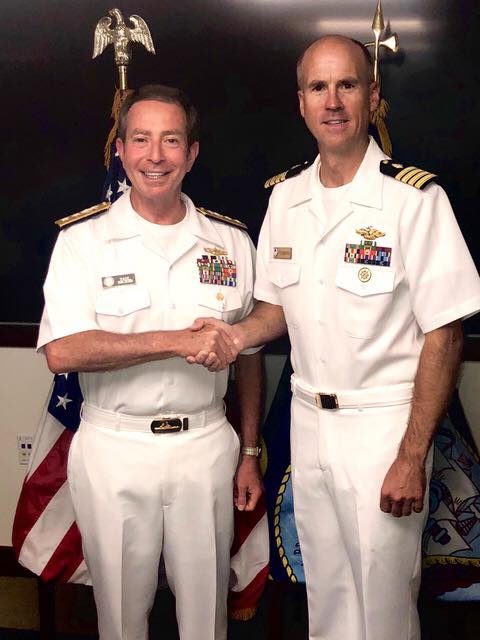 10 Sep

Two Reasons for a Retired Officer to wear their Uniform

Last week I wore a uniform for the first time since retiring from the Navy two years ago.  There are typically only two occasions when veterans put back on the cloth of their country:
A Military Ceremony
When asked to Promote The Orthopedic Oncologist Who Saved Their Life!
I couldn't have been prouder to do so, and to be speaker for the inspirational Captain Jonathan Forsberg, USN, Professor of Surgery and Director of the DoD's Osseointegration Program at the Walter Reed National Medical Medical Center in Washington, DC.  Dr. Forsberg is the full motivational package of "Teamwork, Tone, Tenacity™" (T3)!
We first met on December 23, 2014.  Then Commander/Dr. Forsberg was part of a cross-functional medical team that delivered my diagnosis of Stage IV Multiple Myeloma (Bone Marrow) Cancer.  In that uncertain time it became imperative to have a reliable, resilient framework to fall back on; which had previously proven successful in helping overcome adversity … that was "T3!"
T3 starts with Teamwork.  Dr. Forsberg became one of the lynchpins of my new team; a group of medical professionals that included doctors, nurses and administrators.  Teamwork begins by building trust.  One of the most important steps in building trust is building relationships.  Dr. Forsberg's upbeat Tone and Tenacity in aggressively following up on my complex questions quickly established a relationship of trust between us.  I, in turn, tried to be a good patient and followed all medical instructions to the letter.
Each time we said we'd do something, we did it.  There was no "say – do" mismatch and that deepened the trust between us.  The by-product of our new mutual trust was loyalty, and loyalty amongst teammates is the essence of organizational cohesiveness and morale; whether wearing camouflage, medical scrubs or a business suit.
A synonym for the trust and loyalty that comes with Teamwork is Faith.  Faith is a complete confidence in something or someone.  It was a reciprocal faith with my teammate Dr. Forsberg which helped us achieve such a positive outcome under the most trying of circumstances.
It was only appropriate that we concluded the promotion ceremony by administering the Oath of Office.  The United States' Uniformed Officers Oath, established during the earliest days of our republic, consists of just 70 words.  Of those 70, only one word of significance is repeated twice: the synonym for the trust and loyalty that comes with Teamwork … Faith.