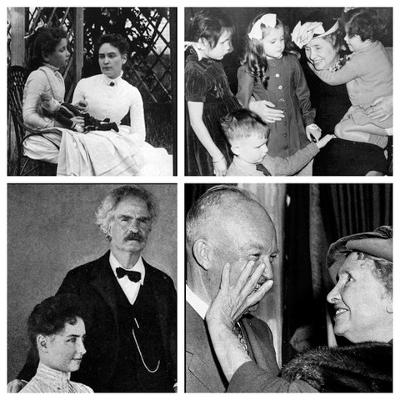 28 Jun

TRANSFORMATIONAL "T3" LEADERSHIP: HELEN KELLER

Happy B'Day Helen Keller, 1880.  Lost sight and hearing at 19 months due to illness. Overcame extreme adversity and became an inspirational author, lecturer and advocate for the disabled.  Changed society's views of the disabled.  Helped make braille the standard of writing for the blind.Her success attributed to: 
TEAMWORK:

 

Met her "Miracle Worker" teacher Ann Sullivan in 1887. Their efforts together allowed Helen to flourish via a uniquely adapted touch teaching method. Shared comfort, companionship and humor with Mark Twain for more than a decade; he called her "The Eighth Wonder of the World!" "I can feel the twinkle of his eye in his handshake," said Keller of Twain.

 

"He treated me not as a freak, but as a handicapped woman seeking a way to circumvent extraordinary difficulties"
TONE:

 

"Optimism is the faith that leads to achievement. Nothing can be done without hope and confidence"
TENACITY: "Although the world is full of suffering, it is also full of overcoming it." Helen tirelessly made nine world tours to 38 countries on five continents working on behalf of the blind.
Helen Keller was awarded the Presidential Medal of Freedom in 1964 and is a member of the National Women's Hall of Fame, one of relatively few women to be so decorated in our nation's history.  For someone dealt an incredibly difficult physical disability, hers is a legacy of resiliency, intrepidity, love and servant leadership. 
– Rear Admiral Paul Becker, USN (Ret) is a leadership expert.  He is the CEO of The Becker T3 Group, a platform for his motivational and national security keynote speaking. A former Naval Intelligence Officer, he's successfully led large, diverse, high-performing teams afloat and ashore in peace, crisis and combat.  In 2016, The Naval Intelligence Community established "The Rear Admiral Becker 'Teamwork, Tone, Tenacity Award for Leadership" in his honor