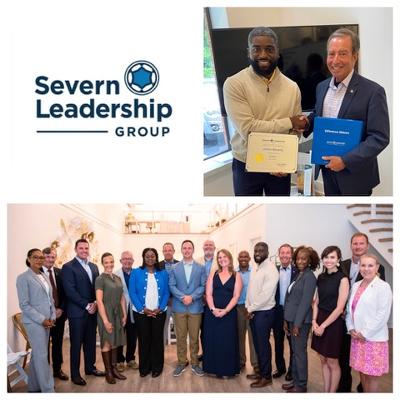 18 Jul

THREE UNEXPECTED BENEFITS OF BEING A MENTOR

I was a proud volunteer Mentor with the Severn Leadership Group (SLG's) five-month program this year, paired with a Fellow (Protégé), Julian, from Deloitte Consulting LLP.

SLG is a non-profit organization that's been developing leaders of character, nationwide, for the past 10 years.  The 12 Fellows in this cohort were mid-career young professionals seeking to reach their full potential. The Mentors are established government and private sector leaders. When I first joined the program, I thought the benefit would go all to the Fellow (Protégés),  I was wrong.  

Similar to Shakespeare's reference to the quality of mercy in "The Merchant of Venice" … I unexpectedly discovered that, "[Mentoring] is twice blessed.  It blesseth him that gives and him that takes. 'Tis mightiest in the mightiest."  

Julian described the benefit from the Mentor-Fellow experience this way, "The opportunity to work 1.v.1 changed my career, and will probably change my life."  I didn't expect, as a Mentor,  to be so professionally rewarded from the experience, but was as well.  Here are three unexpected benefits I gained from this opportunity, which could likely be realized by any Mentor in this type of relationship: 

 
ENHANCED LISTENING:

 

Julian and I come from different backgrounds and were shaped by different influences.

 

I'm a former Naval Officer, aged 65, white, from New York.

 

Julian is a Senior Consultant for Deloitte, aged 32, black, from Maryland.

 

We spent our first two sessions listening carefully to each other's background, sharing personal narratives and building rapport.

 

This set the groundwork for future respectful, candid two-way discussions.

 

During these sessions, there were times Julian clearly communicated his goals, expectations and desired outcomes to me, and times when I did the same to help him get there.

 
BEING "REVERSE MENTORED":

 

Julian is very bright, particularly in the areas of Computer Systems and (IT).

 

I researched these fields in advance of our group and private meetings so I could better contribute to a more meaningful dialog with him.

 

I probably wouldn't have expanded my horizons in these areas if we weren't working together.

 

There were times I was "Reverse Mentored" by Julian in ways to lead others and problem solving in the tech workspace.

 

He was often interested in learning what best practices, attributes and strengths worked

 

for me – and those that did not – during my career in the Navy and private sector.

 

I was fond that sharing stories when I came up short, why I came up short, and what I did to avoid coming up short next time, often citing Admiral Hyman Rickover, father of our nuclear Navy, "Success teaches nothing.

 

Only failure teaches."

 
EXPANDED PROFESSIONAL NETWORK:

 

The SLG model has 12 Mentors and 12 Fellows per cohort.

 

We meet in person as a large group every other week, and 1.v.1 with our Fellow on the alternate week.

 

The group sessions provide a rich opportunity to begin new professional relationships with other volunteer Mentors, or re-establish and strengthen relationships with previous Mentors.

 

If Julian asked a question to which I didn't know the answer, or about building a skill a I didn't possess, it was easy to reach out to an SLG Mentor colleague in our network.

 

My new Mentor network now includes a Naval Academy Football Coach, Pharmacy Chain CEO, Realtor, and Defense Industry Strategist.
As a bonus benefit, this Mentoring experience contributed to my own sense of fulfillment and personal growth.   Workplace studies indicate those who serve as Mentors report greater job satisfaction and commitment to their organization.  Positive Mentor-Protégé engagements can lead to reduced turnover, in both seniors and subordinates, which ultimately impacts performance, productivity and profit.   So if you're looking to improve yourself and help another at the same time, become a Mentor!
Rear Admiral Paul Becker, USN (Ret) is a certified Executive Coach, Leadership Instructor at the U.S. Naval Academy and volunteer Mentor with the Severn Leadership Group.   He served 30+ years as an Intelligence Officer in peace, crisis and combat. In 2016, The Naval Intelligence Community established the "Rear Admiral Becker 'Teamwork, Tone, Tenacity' Leadership Award" in his honor. To connect with Paul, visit his website: https://TheBeckerT3Group.com