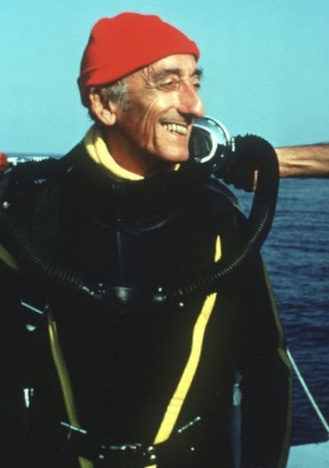 11 Jun

THE UNDERSEA  – "T3" LEADERSHIP – WORLD OF JAQUES COUSTEAU

June 11th is Jacques Cousteau's birthday (1910). The Frenchman inspired generations as a world-famous maritime explorer, conservationist and  filmmaker.  His aquatic accomplishments are legendary, but so are his leadership skills which internationally influenced others to become involved with maritime ecology.  What made Cousteau's style so special? It was his impassioned application of "T3."
TEAMWORK:

 

A Naval Officer and Frogman who first came to international prominence by revolutionizing underwater diving, Cousteau co-developed the Aqua-Lung (forerunner of today's SCUBA).

 

He used his

 

military team-building skills to inclusively partner with scientists adventurers, ecologists, authors and even musicians ("Calypso" – named for Cousteau's Research Vessel –

 

was a 1975 John Denver hit song) to help achieve his goals of understanding and protecting the seas and its inhabitants.

 

TONE:

 

Cousteau was upbeat and inquisitive. His TV show, "The Undersea World" from 1966-1976 energized a generation to support his his valuable work.

 

Great leaders demonstrate great passions.

 

Cousteau demonstrated his through the fervent pursuit of goals, which included being brutally blunt when necessary, "Water and air, the two essential fluids on which all life depends, have become global garbage cans."

 

Effective leaders also demonstrate great empathy and genuineness.

 

Revealing a softer (perhaps stereotypical French) side, he also aroused passions by stating, "A lot of people attack the sea, I make love to it."
TENACITY: Achieving goals requires commitment.

 

Cousteau was relentlessly committed to seeking solutions to maritime problems and quality of life for its denizens.

 

His full-time commitment was underscored by authoring over 50 books, producing 20 television documentaries (all of which I watched as a youth) and establishing an environmental protection foundation – The Cousteau Society – which included hundreds of thousands members.

 
Great leaders are great communicators.  Cousteau was a scientific communicator with an inclusive touch.  What kept Cousteau's followers committed to common objectives (he passed away in 1997) was his passion, humility and integrity.   This remarkable leader's own perspective serves as a fitting epitaph, "When one man, for whatever reason, has the opportunity to lead an extraordinary life, he has no right to keep it to himself."
– Rear Admiral Paul Becker, USN (Ret) led large, diverse, high-performing teams afloat and ashore, in peace, crisis and combat.   He established  The Becker T3 Group in 2016, a platform for keynote speaking, executive coaching and security risk management.