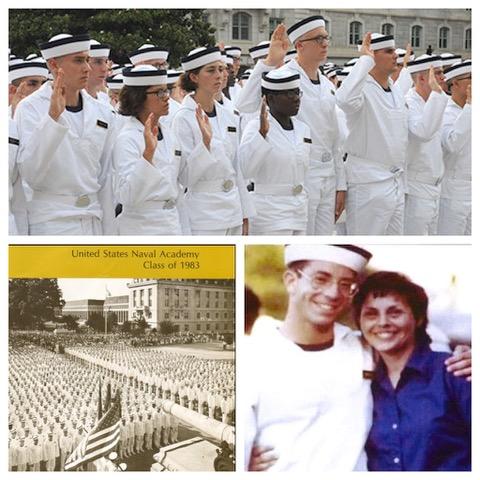 01 Jul

THE "T3" LEADERSHIP JOURNEY BEGINS: INDUCTION DAY AT THE U.S. NAVAL ACADEMY, CLASS OF 2026

THE "T3" LEADERSHIP JOURNEY BEGINS: INDUCTION DAY AT THE U.S. NAVAL ACADEMY, CLASS OF 2026 

June 30th was "I(nducation)-Day at the U.S. Naval Academy for approximately 1,200 young men and women.  The vast majority of these freshmen, known as "Plebes," weren't born on 9/11.  Over the next six weeks they'll  undergo a strenuous physical and mental transition from civilian to military life.  For the first time in their young lives many will have no access to cellphones, internet, TV, movies or music!  

My journey of public service and learning lessons of leadership began during Plebe Summer in July 1979 with the Class of 1983.  Many things have changed since then, but the goal of Plebe Summer has not: to begin the  mental, moral and physical development of these future Officers for leadership roles in the Navy and Marine Corps.  Throughout July and August the new Mids will be taught, tested and trained to follow the examples set by their seniors in the following core leadership areas: 
TEAMWORK:

 

Former High School individual standouts and superstars will soon realize that success in the military stems from group performance, not individual achievement.

 

The building block to a successful team means sacrificing one's personal preferences to help their group meet a shared goal.

 

For some teenagers this level of selflessness will be a new experience. This lesson plays out even in the Dining Hall, where 12 Midshipmen sit together for a family style meal three times a day with huge platters of food.

 

At every meal they will be tested, at a minimum on their table manners and sharing food quickly with others,

 

As with all areas this summer, poor performance will be not be tolerated – and corrected.

 
TONE:

 

Effort is more important than talent during Plebe Summer.

 

The best performers from the Class of '26 will probably not be the smartest, strongest or fastest.

 

They'll be the ones who'll give 100% all the time and share their extra energy helping their new classmates succeed.

 

The Seniors who lead the Plebes, called "Detailers," will issue difficult – near impossible – commands.

 

They'll challenge Plebes to their limits with tests of mental and physical toughness. Time Management will become a new tool to be learned by the Plebes.

 

Seconds and minutes will count like never before.

 

Thinking and acting quicker, and more efficiently, has its benefits, especially when these future officers serving in The Fleet or The Corps find themselves in crisis or combat situations one day.

 

There's also no making excuses during Plebe Summer.

 

"No Excuse, Sir!" is one of the five

 

basic responses every member of the Class of '26 will memorize before the sun sets tonight.

 

The others are "Yes, Sir!," "No, Sir!," Aye Aye, Sir!" and "I'll Find Out, Sir!"

 

Plebe Summer is a time to begin taking personal responsibility at a level many Plebes have never experienced before.

 
TENACITY: The Navy and Marine Corps is not a place for Officers who quit.

 

Thus, Plebe Summer is purposely designed to identify those who show signs of weakness under stress. Midshipman failures are anticipated and built into the system. As a famous USNA alumnus from the Class of 1922, Admiral Hyman Rickover, said, "Success teaches nothing … Only failure teaches."

 

The goal this summer is not to see how many failures occur, but how well those who fail can bounce back,

 

maintain a positive perspective and improve the next time.

 
Some final words of encouragement for our future national security leaders in the Class of '26:  No single thing during Plebe Summer is exceptionally difficult.  However, the cascade of so many things hitting you at once can be overwhelming.   You can do it!  You wouldn't have been chosen to join our ranks if you didn't possess the raw materials to succeed.   Other Plebes like you have been overcoming these challenges and surviving the demands of Plebe Summer for 150+ years; you can too.   I have every confidence in your "T3" leadership success, this summer and beyond.  Good luck and God Speed Class of 2026!
– Rear Admiral Paul Becker, USN (Ret) is a motivational and national security keynote speaker.  He is a leadership professor at the U.S. Naval Academy and the CEO of The Becker T3 Group. In 2016, The Naval Intelligence Community established "The Rear Admiral Becker 'Teamwork, Tone, Tenacity Award for Leadership" in his honor.  To connect with Paul to be a speaker at your next event, visit his website: https://TheBeckerT3Group.com