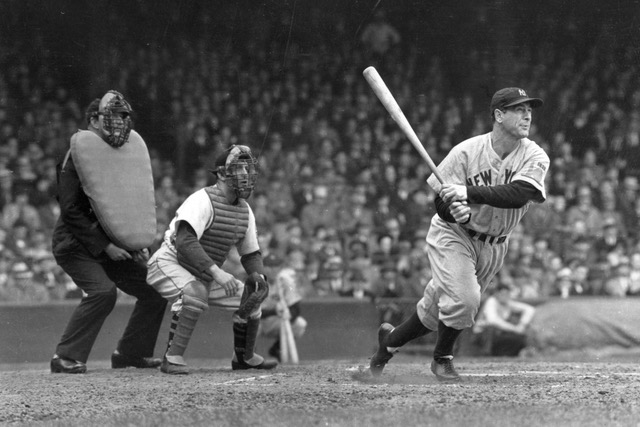 02 Jun

PRIDE OF THE YANKEES "T3" LEADERSHIP!

PRIDE OF THE YANKEES "T3" LEADERSHIP!

Lou Gehrig, one of the greatest players in Major League Baseball history,   died of Amyotrophic Lateral Sclerosis (ALS) OTD in 1941 at age 38.  ALS is now known as "Lou Gehrig's Disease."  Lou personified selfless service to teammates, shared an incomparable optimism while battling terminal illness and demonstrated dogged determination to perform as well as he could as long as he could.  His inspirational leadership style emphasized: 
TEAMWORK: More important than his Hall of Fame statistics, Lou was Captain of six World Series championship teams in the 1920's and 30's.

 

A servant leader, Lou put team before self, helped influence and control big egos like Babe Ruth on world famous Yankees teams, and made the tough decision to place himself on the bench knowing his declining performance was hurting the ball club.

 
TONE: His humble, stirring, upbeat farewell address at Yankee Stadium on July 4, 1939, while valiantly fighting ALS, is one of the greatest sports speeches in history, " … Right now, I consider myself the luckiest man on the face of this earth … I might have been given a bad break, but I've got an awful lot to live for."

 

Lou died less than two years later.

 

Mayor LaGuardia ordered all flags in New York City to be flown at half mast in his honor.

 
TENACITY: Lou was nicknamed the "Iron Horse" for his durability and 2,130 consecutive games played over 14 seasons.

 

That record that stood for 58 years until broken by Cal Ripken Jr. in 1995.
The Lou Gehrig Memorial Award is given annually to the MLB player who best exhibits Gehrig's integrity and character.  June 2nd is now MLB's "Lou Gehrig Day," chosen as the anniversary of the date he first entered the starting lineup for the Yankees and the date of his passing.  We need more role model leaders in professional sports like Lou Gehrig!   
Rear Admiral Paul Becker, USN (Ret) is a Leadership Professor at the U.S. Naval Academy.  He is the CEO of The Becker T3 Group, a platform for his motivational keynote speaking. A former Naval Intelligence Officer, he's successfully led large, diverse, high-performing teams afloat and ashore in peace, crisis and combat.  In 2016, The Naval Intelligence Community established "The Rear Admiral Becker 'Teamwork, Tone, Tenacity Award for Leadership" in his honor