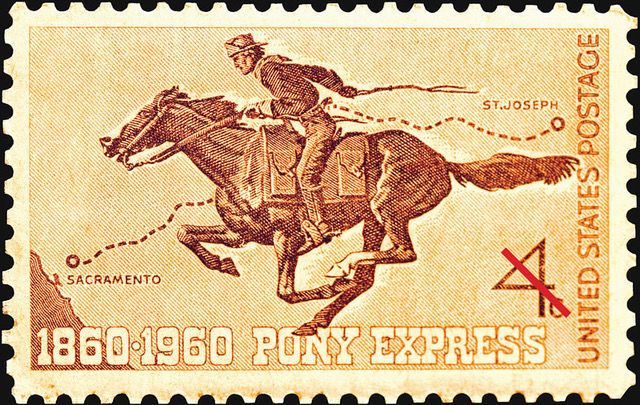 03 Apr

PONY EXPRESS "T3!"

I most often write about individuals' leadership traits that inspire others and lead to success.  It's easy to associate valor and accomplishment with a single person. But occasionally an event or an entire organization takes on iconic significance. Those events' images and memories motivate and remind us of collective triumphs.   That is the case here.  

On This Date in 1860, the first Pony Express service began moving mail from Missouri to California (at $5 per ounce).  It covered 1900 miles in an amazing 10 DAYS!  It was an innovative way to overcome an incredibly difficult obstacle.  The Pony Express lasted only 18 months until the transcontinental telegraph made it obsolete; however, it is now part of the enduring lore of the American West and epitomized T3: 
TEAMWORK:

 

80 riders and 400 horses utilized 100+ stations on the trip across 2/3 of (what is now) the United States. There were no weak links in this chain

 
TONE:

 

Defiantly demonstrated any difficulty could be surmounted and a transcontinental communications system could be operated year-round
TENACITY:

 

Reliance on the bravery and endurance of hardy young riders and fast horses that crossed deserts, mountains and hostile territory. This was an indelible symbol of rugged American individualism on the frontier.
In the final years before electronic communications became commonplace, the Pony Express bridged the communications gap between America's East and West.  As a young stamp collector I also marveled that the first postage stamp in our nation's history to feature an image other than Washington, Jefferson, Franklin and Jackson was of the Pony Express (1869).  When I reference the Pony Express in keynote speeches to large audiences or corporate teams, I'm also always certain to emphasize that they never lost a letter!  It wan't just another remarkable enterprise in American history, it was a testament to the coordination, understanding of common purpose, optimism and indomitable spirit of the Pony Express' founders and participants.  In short, the epitome of "T3!"
Rear Admiral Paul Becker, USN (Ret) is a leadership expert.  He is the CEO of The Becker T3 Group, a platform for his motivational and national security keynote speaking. A former Naval Intelligence Officer, he's successfully led large, diverse, high-performing teams afloat and ashore in peace, crisis and combat.  In 2016, The Naval Intelligence Community established "The Rear Admiral Becker 'Teamwork, Tone, Tenacity Award for Leadership" in his honor