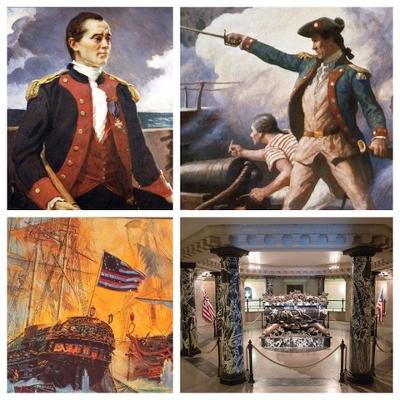 07 Jul

NAVAL "T3" LEADERSHIP: JOHN PAUL JONES

Happy Birthday (1747) John Paul Jones, America's first inspirational maritime hero. Jones established the standard of courage and professionalism that defines our Navy today.  The Scottish born Jones' aggressive actions against the British in their home waters influenced a new nation and sent a message to the world that the American Navy was a new force to be reckoned with.  There's rarely a keynote address when I don't reference some aspect of Jones' remarkable leadership style:  
TEAMWORK:

 

On the qualifications of being a Naval Officer (which is still taught at the U.S. Naval Academy today as a pillar of leadership and team building):

 

"It is by no means enough that an officer of the Navy should be a capable mariner. He must be that, of course, but also a great deal more. He should be as well a gentleman of liberal education, refined manners, punctilious courtesy, and the nicest sense of personal honor.

 

He should be the soul of tact, patience, justice, firmness, kindness, and charity. No meritorious act of a subordinate should escape his attention or be left to pass without its reward, even if the reward is only a word of approval. Conversely, he should not be blind to a single fault in any subordinate, though at the same time, he should be quick and unfailing to distinguish error from malice, thoughtlessness from incompetency, and well meant shortcomings from heedless or stupid blunder. In one word, every commander should keep constantly before him the great truth, that to be well obeyed, he must be perfectly esteemed."
TONE:

 

"I wish to have no connection with any ship that does not sail fast; for I intend to go in harm's way."

 

"If fear is cultivated it will become stronger, if faith is cultivated it will achieve mastery."

 

"Those who will not risk cannot win."
TENACITY:

 

"I have not not yet begun to fight!" declared Jones in command of USS BONHOMME RICHARD when asked to surrender after incurring severe damage early in battle vs. HMS SERAPIS in 1179.

 

Jones and his ship were ultimately victorious!

 
Jones died in France 1792.  President Theodore Roosevelt had his  remains returned to the U.S. in 1906 with national ceremony.  His remains now lay at eternal rest in a marble sarcophagus at the U.S. Naval Academy Chapel, one of the most visited tourist sites in the State of Maryland, where his memory and audacious spirit of action and leadership inspires new generations of Americans. 
– Rear Admiral Paul Becker, USN (Ret) is a leadership expert.  He is the CEO of The Becker T3 Group, a platform for his motivational and national security keynote speaking. A former Naval Intelligence Officer, he's successfully led large, diverse, high-performing teams afloat and ashore in peace, crisis and combat.  In 2016, The Naval Intelligence Community established "The Rear Admiral Becker 'Teamwork, Tone, Tenacity Award for Leadership" in his honor