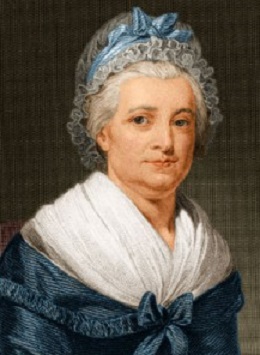 02 Jul

Our 1st, First Lady: Martha Washington's Leadership Examples

Martha Washington's birthday was June 13th.  She played a vital role in supporting the successes of her husband in peace, crisis and combat.  Mrs. Washington overcame much adversity in her own life: A widow at age 25, the loss of two young children and frequent, long separations from a military spouse.  She was a quiet exemplar of "Teamwork, Tone, Tenacity."  Specifically:
Teamwork:  Martha endured personal hardship to join General George Washington at the Continental Army's winter encampments at Valley Forge over several years.  In those frigid environs she helped lift morale of soldiers and maintain an esprit de corps amongst other military spouses.
Tone:  She knew travails and tribulations all too well.  Her attitude in overcoming adversity is reflected in one of her most famous citations, "The greater part of our happiness depends on our dispositions and not on our circumstances."
Tenacity:  An astute businesswoman, Martha was tireless in successfully managing the Mount Vernon and Custis estates for 50 years, including prolonged periods of absence due to combat and political demands of her husband.  She persevered with a purpose when it came to taking care of their family home; a place she knew that she and George would come back to after decades of public service.
Martha Washington's leadership aided in defining our nation as she exemplified real T3 traits in her life.
Paul Becker's motivational keynote presentations focus on how real world T3 leadership lessons provide a framework for overcoming extreme adversity.
Paul inspires leaders and organizations on how to overcome adversity and achieve their maximum achievement through "Teamwork, Tone, Tenacity."™ A motivational keynote speaker and author, he draws on decades of experience successfully leading, large, diverse teams in complex and unpredictable situations.  His "T3" principles provide framework for turning tragedy into triumph when faced with the unexpected, and directly translate into corporate pillars of performance, productivity and profit.  For more T3, visit: https://TheBeckerT3Group.com