12 Jun

Lessons From the Battle of Midway and D-Day Invasion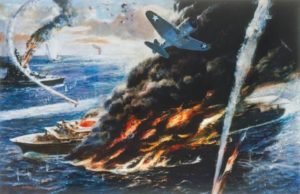 This week marks the anniversaries of two of events that changed the course of history; The Battle of Midway in the Pacific, and D-Day in Europe in 1942 and 1944, respectively. Each provide timeless takeaways on the value of "Teamwork, Tone, Tenacity"
 Teamwork: Success was achieved as the result of outstanding relationships, shared understanding, mutual trust and loyalty between senior commanders Admiral Nimitz and General Eisenhower and all levels of their organizations
Tone: No matter how uncertain or dire the situation may have seemed during intense periods of activity, senior leaders' calm, inspirational direction and assurance bolstered the spirits of those around them
Tenacity: Despite great loss and sacrifice, American service members persevered with a purpose of victory and displayed indomitable heroism, valor and resolve in air, on the land and sea.
Lessons from the Battle of Midway and D-Day Invasion abound with examples of "T3" and will serve in perpetuity as the hallmarks for outstanding organizational achievement and individual accomplishment in the face of adversity.
—
Paul Becker inspires leaders and organizations on how to overcome adversity and achieve their maximum achievement through "Teamwork, Tone, Tenacity."™ A motivational keynote speaker and author, Paul draws on decades of experience successfully leading, large, diverse teams in complex and unpredictable situations.  His "T3" principles provide a framework for turning tragedy into triumph when faced with the unexpected and directly translate into corporate pillars of performance, productivity, and profit.