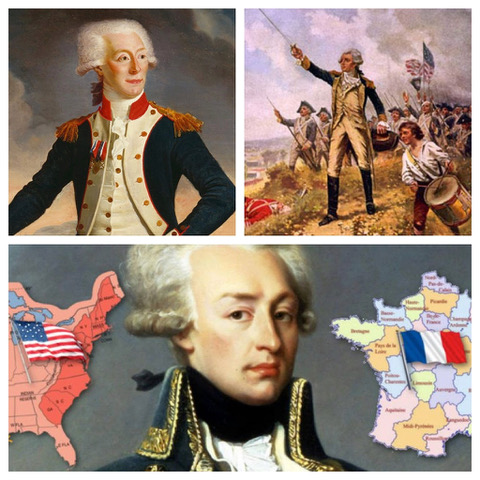 20 May

LAFAYETTE: "T3" LEADERSHIP HEROIQUE DANS DEUX PAYS! (HEROIC "T3" LEADERSHIP IN TWO COUNTRIES!)

Marquis de Lafayette, the American patriot and French revolutionary, died OTD in 1834 at age 76. He was France's greatest export to our new nation fighting for freedom.  An inspirational and tireless fighter for liberty and human rights.   Fayetteville, North Carolina, Lafayette, Indiana and several other U.S. cities named for him.  One of the few non-Americans with a U.S Navy ship named in his honor:  USS LAFAYETTE (SSBN 616), a nuclear ballistic missile submarine which served from 1963-1991.  Lafayette's  leadership style included: 
TEAMWORK: Fought with our Continental Army in New England, the South and mid-Atlantic including final victory at Yorktown. Back in his native France, he tried to steer a middle course of enlightened reason through years of violent revolution.

 

Sadly he was imprisoned by his own radical countrymen during the Reign of Terror for five years. Napoleon set him free.

 
TONE: Unwavering loyalty to GEN Washington in combat.

 

Helped write the "Declaration of the Rights of Man" in France with the assistance of Thomas Jefferson.

 

Buried in Paris' Picpus Cemetery under soil from Bunker Hill, Massachusetts. I paid homage at his gravesite on July 4th when I was an Assistant Naval Attaché to France in the late 1990's.
TENACITY: Steadfast support to the ideals of human rights and civic nationalism, even when doing so endangered his life and fortune. Spent much of his personal wealth on the cause of American freedom.

 

Lafayette left a legacy few military leaders, politicians, or statesmen can ever match.

 
Vive la liberté!
– Rear Admiral Paul Becker, USN (Ret) is a leadership expert.  He is the CEO of The Becker T3 Group, a platform for his motivational and national security keynote speaking. A former Naval Intelligence Officer, he's successfully led large, diverse, high-performing teams afloat and ashore in peace, crisis and combat.  In 2016, The Naval Intelligence Community established "The Rear Admiral Becker 'Teamwork, Tone, Tenacity Award for Leadership" in his honor