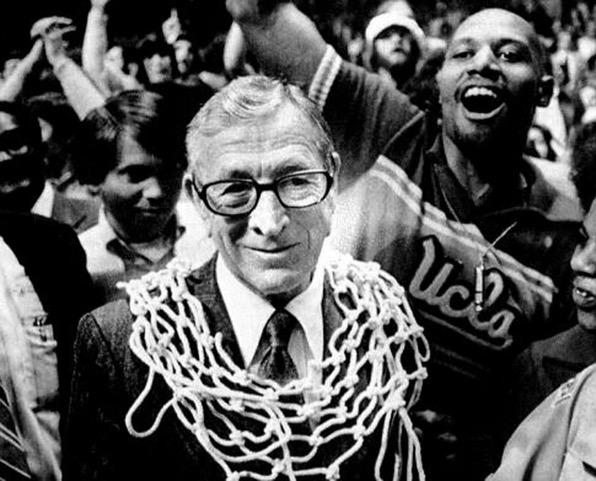 28 Mar

JOHN WOODEN, THE GREATEST COLLEGE BASKETBALL COACH OF ALL TIME, EPITOMIZED "TEAMWORK, TONE, TENACITY" (T3)

It's March Madness!  The 2019 NCAA Men's College Basketball "Sweet 16" tips off this week.  The nation is excited about watching great games being played by great teams with great coaches.  The most prominent coach still in the tournament is Duke's Mike Krzyzewiski with 5 national championships under his belt.  The inspirational "Coach K" is rightly considered the greatest leader of young athletes on the court today.  But which NCAA basketball coach led his teams to more championships – 10! – than any other?  UCLA's John Wooden, "The Wizard of Westwood," from 1948-1975.  Coach Wooden's ability to motivate, build character and elicit extraordinary performance is legend.  His humble, inspirational leadership style contained three core elements: "Teamwork, Tone, Tenacity."

John Wooden was raised on a dairy farm in Indiana.  He was a three time All American as a 5'10'' Guard at Purdue who led the Boilermakers to the 1932 NCAA Championship as their Senior Captain.  He was a high school teacher and basketball coach in Indiana until World War II when he served as a Navy Lieutenant.  In 1948 he was hired at UCLA, where the Bruins had only three winning seasons over the previous two decades.  In his first season as UCLA coach, the Bruins had a 22-7 record and won their Division!  The wins continued and so did national attention on Coach Wooden's leadership style.  Following his retirement from UCLA, he was a keynote speaker who attracted sell out crowds when he spoke about motivation and leadership.  He authored or co-authored numerous best selling books about his coaching principles which apply to all aspects of life today.  I have two of them in my office, A Lifetime of  Observations and Reflections On And Off The Court, and Wooden on Leadership.  Both are earmarked and highlighted to quickly reference his pertinent thoughts about developing teams, building character and improving performance.  Here are some of Coach Wooden's thoughts on the pillars of "T3" that are applicable to leaders and teams today:

TEAMWORK
Team Vs. Individual:  Coach Wooden incentivized performance of the team, not the individual.  No player had their jersey retired when he was UCLA's coach, not even the great Kareem Abdul Jabbar (then Lew Alcindor) or Bill Walton, because that would have spotlighted the player vs. the group. Three Wooden citations emphasize this principle:

"The star of our team is the team."
"A player who make the team great is more valuable than a great player."
"A leader must accomplish the difficult task of getting those on the team to believe that 'We' supersedes 'Me'."

Flawless Execution Of The Fundamentals: Team work and Team building began at every season's first practice.  A common understanding and demonstration of the  basics were  always the first lesson to unite all players.  From the proper wearing of socks and lacing sneakers which avoided blisters and sprained ankles, to dribbling and passing to master the skills of ball control, all training was designed to maximize attention to small details which would lead to success.
The Pyramid of Success: Coach Wooden developed a framework of 15 characteristics and traits to build excellence and help his teams reach their full potential.  The three center building blocks at the pyramid's base are "Friendship" "Loyalty" and "Cooperation."  They're flanked by cornerstones of "Industriousness" and "Enthusiasm." Four levels up the pyramid is the capstone block of "Competitive Greatness" which punctuated Wooden's focus that team success is about preparation and mastery of fundamentals rather than winning any  particular contest.
TONE
Personal Example: UCLA players unanimously praise Coach Wooden as the greatest example of leadership and integrity they ever knew.  He earned respect by always doing what he said he'd do.  "Don't give your word unless you intend to keep it. A leader who's promise means something is trusted.  Trust counts for everything in leadership."
Controlled Temperament:  Wooden never raised his voice or cursed.  "There is a difference between 'spirit' and 'temperament.' I valued players with spirt and avoided those who were temperamental."
The Purpose of Criticism: "It's not meant to punish, but rather correct something that is preventing better results. The only goal of criticism or discipline is improvement. [When criticizing], You must – to the best of your ability – use tact."
Coach Wooden maxims that emphasize positive Tone:

"Be most interested in finding the best way, not in having it your way."
"Be committed to what's right, not who's right."
"Winning takes talent, to repeat takes character.
TENACITY
Persistence: Coach Wooden was fond of citing President Calvin Coolidge, "Nothing in the world can take the place of persistence.  Talent will not, Genius will not, Education will not.  Persistence and determination are omnipotent."
Free Throws: A UCLA player would have to make 10 consecutive free throws in practice before they could enter into the much more desirable scrimmage.
The Four Laws of Learning: "Explanation, Demonstration, Imitation, Repetition."  Coach Wooden built teams by creating habits that could be produced instinctively under great pressure.  "Big things are only accomplished through the perfection of minor details."  He made his teams promise to give so much time improving themselves that they had no time to criticize others."
Coach Wooden's success in building high performance teams was based on simple precepts that were explicitly known and repeatedly emphasized.  Through the application of the principles of "Teamwork, Tone, Tenacity" his basketball players bought into a common purpose.  Wooden coached his players to be persons of character who were focused on competitive greatness and not just Wins v. Losses.  He described success as "The self-satisfaction in knowing you made the effort to do your best to become the best you can."  These are leadership – and life –  lessons that transcend sports and contribute to Coach Wooden's reputation as the Greatest NCAA Basketball Coach of All Time.