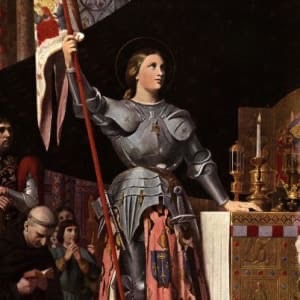 05 Jan

PATRON SAINT "T3" LEADERSHIP: JOAN OF ARC

Joan of Arc, Patron Saint of France, was born January 6, 1412.  The  legendary heroine is known for her devout religious belief, intrepid devotion to duty and distinctive ability to motivate others.  She was a "T3" exemplar, demonstrating historic "Teamwork, Tone, Tenacity®".  Here's some specifics:
TEAMWORK:  Successfully planned and led a French Army's audacious assault to break the English Siege at Orleans at age 17.  This was a turning point of The Hundred Years War and fulfilled a prophecy she delivered to King Charles VII.  Wounded twice, Joan returned to the front each time to motivate her troops.  She subsequently planned and led French forces to other victories before her capture.
TONE:  Her fearlessness in faith and battle inspired a nation. Prior to war, she never allowed rejections to deter her while pursuing her Godly visions to speak directly with Charles VII.  Just imagine: an illiterate teenage peasant girl attempting to convince a King that she could achieve what his soldiers could not … she earned that audience and made the case!
TENACITY: Never wavered in her devout religious beliefs, even en route being burned at the stake by her enemies at Rouen in 1431 (the charges were heresy, witchcraft and dressing like a man).
French King Charles VII declared Joan innocent and avowed her as a martyr after the war. She was made a Saint by the Pope in 1920 and later named a Patron Saint of France.  Her unshakable convictions and inspirational actions turned a dynastic war of English-French nobles into a popular war for national liberation.  A motivational leader by any measure, her name remains synonymous with courage more than 500 years after her amazing feats.  There have been several French Navy ships named JEANNE D'ARC (I visited one while an Assistant Naval Attache to Paris in 1999). Today, Joan of Arc is commemorated annually in France with a National Holliday named in her honor, a reminder that true "T3" leadership transcends social position, age and gender.
Rear Admiral Paul Becker, USN (Ret) is a leadership expert.  He is the CEO of The Becker T3 Group, a platform for his motivational and national security keynote speaking. A former Naval Intelligence Officer, he's successfully led large, diverse, high-performing teams afloat and ashore in peace, crisis and combat.  In 2016, The Naval Intelligence Community established "The Rear Admiral Becker 'Teamwork, Tone, Tenacity Award for Leadership" in his honor. To book Paul for your next virtual event, contact us today!