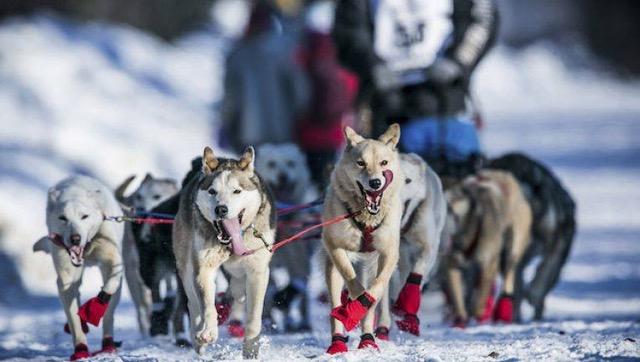 11 Mar

"Iditarod: The Last Great Race On Earth"… Winning Takes "Teamwork, Tone, Tenacity" (T3)!  

The ultimate Man-Dog "T3" is underway in Alaska.  Approximately 50 human Mushers and their groups of  12-16 sled dogs left Anchorage last week and are midst of crossing 1000 miles of frozen tundra, rivers and mountain ranges en route Nome.  That's about the distance from San Diego to Denver!  The Iditarod  highlights that "T3"doesn't just apply to humans, but to humans working with their best friends: dogs.

The Iditarod began in 1973 for two reasons: 1) A way to promote Alaska's sled dog culture in the face of growing snowmobile use, and 2) preserve the historic Iditarod Trail between Seward and Nome (Iditarod is the name of an abandoned mining town in Central Alaska).  Since then, the epic event has motivated and inspired millions of international followers.  Why?  Because fans of the outdoors, fans of working animals, fans of high performing groups and fans of overcoming adversity all have something to cheer for in this tremendous trial of body and spirit for man and animal.

Any Iditarod winner will attest that it takes 3 Leadership and Overcoming Adversity characteristics to become a champion:
TEAMWORK: There is a special bond between a Sled Musher and their dogs pulling together – literally – day and night, for 1,000 miles.  The TEAM lives and trains together for months, if not years, prior to a race of this magnitude, and they have to develop trust and loyalty with each in order to survive and be successful.  Want an example of the special level of TEAMWORK between a Musher and their dogs?  In 2012 Scott Janssen revived one of his Huskies with mouth-to-snout resuscitation!
TONE: Reins may guide the sled dogs, but special words and recognition are needed to motivate each one of them – just like humans.  The Musher must know key words and actions that inspire each member of their team, especially the lead dog from which more is expected.  This is also a great lesson for any leader working with all human teams in "The Lower 48 [States]."
TENACITY: Iditarod is an inspirational display of physical and mental perseverance during sub-zero degree days/nights across mountain ranges and the frozen Yukon.  I've listened to victory speeches and interviews with many inspirational winners – several are now motivational keynote speakers – and every one emphasizes the grit and resolve needed to overcome adversity.  The late 4 x Winner Susan Butcher is my favorite … "It's thrilling, isn't it? Especially when you conquer it."
"If it were as easy as just pouring gas in the dogs and telling them to go, anyone could do it," Iditarod Champ Rick Swenson once observed. "But not anyone can do this."  The same analogy can be applied to building high performance winning teams.  If you're looking for a success expert who can energize and inspire an organization to improve their performance, productivity and profit, I look forward to sharing how "Teamwork, Tone, Tenacity®" (T3) can do just that.