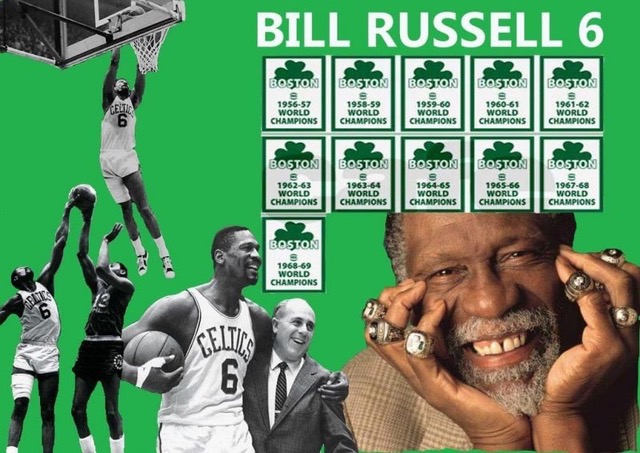 12 Feb

HARDWOOD "T3" LEADERSHIP: THE CELTICS' BILL RUSSELL

The Boston Celtic's inspirational leader, Bill Russell, turns 87 today.  He belongs in the American team sports "Greatest Of All Time" (GOAT) conversation.  Russell led the Celtics to 11 NBA Championships in his 13 years with the team during the 1950's-60's.  He was the first African American NBA Head Coach (and winner of two titles in that role).  A Presidential Medal of Freedom recipient, he was a "T3" role model, demonstrating historic "Teamwork, Tone, Tenacity®" in the following ways:  
TEAMWORK:

 

"The most important measure of how good a game I played was how much better I made my teammates play."

 

In addition to 11 NBA titles, Russell also won two NCAA Championships and a 1956 Olympic Gold Medal.

 

Oh, and he was a Track & Field star too: with spectacular marks of 49.6 in 440 yds and 6'9'' in High Jump when a student at the University of San Francisco, skills that served him well in the NBA.

 
TONE:

 

Russell was an active, public Civil Rights proponent during a period of intense racial discord in American history. The victim of violent racist attacks throughout his career, this was part of the reason he never opened up to the public and a contributing reason for his refusal to sign autographs for fans.

 

One of his biggest admirers, Kareem Abdul Jabbar, said of Russell: "The thing that most affected me was that he approached injustice with passion, but he expressed himself rationally rather than with anger."

 

When promoted to head coach of the Celtics in 1966, Russell was asked in a press conference: "As the first Negro head coach in a major league sport, can you do the job impartially without any racial prejudice in reverse?" He replied "Yes." The reporter asked, "How?" Russell replied, "Because the most important factor is respect. And in basketball I respect a man for his ability, period."
TENACITY:

 

Many credit Russell with single-handedly revolutionizing the role of a Center in the NBA by the way he played aggressive defense, blocked shots and emphasized rebounding. His extreme effort was contagious.

 

He emphasized in keynote speeches and in his book, "11 Leadership Lessons," "Craftsmanship comes out of intelligent hard work. I hated practice. I never minimized, however, the importance of repetition in getting ready. Your craftsmanship comes out of your dedication to your practice. Success is a result of consistent practice of winning skills and actions. There is nothing miraculous about the process. There is no luck involved.

 

Amateurs hope … professionals work."

 
Bill Russell adapted "T3" leadership lessons learned on the basketball court into a philosophy for civic engagement, mentorship and compassion. He used his platform as an NBA star to fight back against the racism and inequality. In the face of fan violence, possible career jeopardy and even FBI surveillance, Russell believed his responsibility as an athlete, and as a human being, was to leave things better for those who came after him. He's one of the few American professional athletes honored with a statue outside their former hometown sports arena.  Russell's statue is unique. He's depicted in game action pose with 11 granite plinths representing the 11 championships he helped the Celtics win and sculptures of a boy and a girl demonstrating the potential in each child to succeed based on his or her own merits.  When it comes to "T3" leadership, he was truly one of the Greatest of All Time.    
Rear Admiral Paul Becker, USN (Ret) is the Founding President and CEO of The Becker T3 Group, a platform for his motivational and national security keynote speaking. A former Naval Intelligence Officer, he's successfully led large, diverse, high-performing teams afloat and ashore in peace, crisis and combat.  In 2016, The Naval Intelligence Community established "The Rear Admiral Becker 'Teamwork, Tone, Tenacity Award for Leadership" in his honor