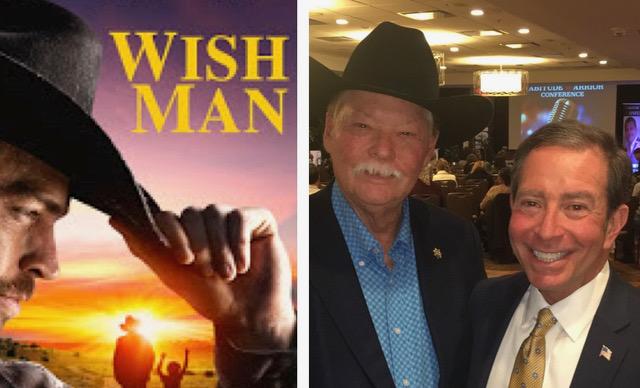 24 Jan

FRANK SHANKWITZ: "MAKE-A-WISH" T3 LEADERSHIP

Frank Shankwitz, co-founder of the "Make-A-Wish" Foundation, passed away yesterday from cancer at age 78 in Prescott, AZ.  Frank was my friend. I've rarely known a more inspirational leader or caring human being. We first met in NYC as recipients of the Ellis Island Medal of Honor Award some years ago. Frank and I later shared the stage as

motivational keynote speakers

. An ardent patriot, former member of the USAF and an Arizona Highway Patrolman, Frank co-founded

"Make-A-Wish"

in 1980. Throughout his amazing life, he was an exemplar "T3" servant leader, always putting others before self. Here's how:
TEAMWORK:   Frank realized leadership was about influence and establishing relationships. He made connections with others to achieve his own wish of serving those in need. Without any particular Non Profit business experience, he partnered, listened and learned in order to create and direct one of America's most iconic charitable organizations.
Frank's wish fulfillment began when he met Chris Greicius, a 7-year old terminally ill leukemia patient in Arizona who had the wish of becoming a motorcycle cop. In addition to visiting with Chris and presenting him a custom, police uniform, Frank pinned Chris' "motorcycle wings" to his bed sheet when he was hospitalized in a coma … which miraculously brought Chris temporarily back to consciousness.  "Am I an official motorcycle officer now?" Chris asked. "Yes you are," Frank replied. Chris passed shortly after. Frank and another officer went to the little town of Kewanee, Illinois, and gave Chris a full police funeral, where they were joined by Illinois State, County and City police. Chris was buried in uniform. His gravestone reads, "Chris, Arizona Trooper." Flying home, Frank started thinking: "This little boy had a wish and we made it happen. Why can't we do that for other children?"
TONE:  The Make-A-Wish Foundation's mission is "To create life changing wishes for children with critical illness."  It now has 64 U.S. and 36 international chapters. It's provided planning, logistics and financial support for over 500,000 wishes granted worldwide in the past 40 years. Always demonstrating the highest ethical and moral standards, Frank even refused to accept a salary from his own foundation for several years while he was still an Arizona Police Officer, donating all pay back into the altruistic organization.
TENACITY:   In 1978 as a motorcycle officer, Frank was so gravely injured in an 85 mph crash in pursuit of a drunk driver, that he was pronounced dead on the scene before being revived by paramedics. Thanks to what Frank credits as Divine Intervention, and what his friends knew was his own extraordinary resolve to live and serve, he persevered with purpose and bounced back. It was then that he met his wonderful and beloved wife Kitty. They had two daughters, three grandchildren and one great-grandchild. It two It took years of rehab until he could return to work as a Police Officer again, time he devoted to learn the Non Profit business world and serving others through Make-A-Wish.
Frank was known as
"Wish Man,"
the subject of the award winning 2019 film of the same name. A hero to millions, he was too humble to ever call himself that. 
"Anybody can be a hero," Frank would say. "Being a hero means you can somehow give back to the community. It doesn't have to be in dollars. It can be in time or any kind of donations or just in support."
  There's a special place in heaven for people who define success and heroism like Frank. His memory, his example of "T3" leadership and the impact of his deeds will live on.
God bless you and the Shankwitz family.
🇺🇸