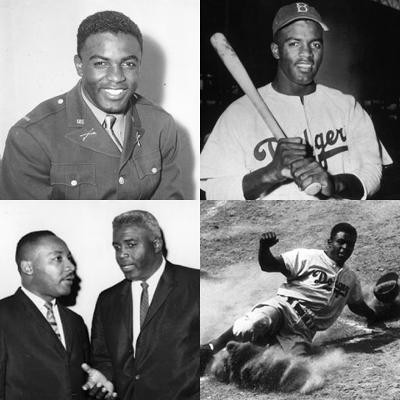 31 Jan

BARRIER BREAKING "T3" LEADERSHIP: JACKIE ROBINSON

Leaders blaze trails where others haven't traveled. They accept risk, demonstrate courage and display resolve in order to achieve goals.  Jackie Robinson was such an inspirational, trail-blazing leader.  Born on January 31,1919 in Georgia, the grandson of slaves, he not only changed the history of sports but the history of America when in 1947 he became the first African American to play Major League Baseball (MLB) with the Brooklyn Dodgers  Jackie wasn't just a showpiece. He was a Rookie of the Year, two years later the league's Most Valuable Player and then a stalwart on the Dodgers' 1955 World Series championship roster.  On and off the field, Jackie Robinson was a "T3" role model, demonstrating historic "Teamwork, Tone, Tenacity®" in the following ways:
TEAMWORK:  Jackie was a team sports superstar, a foundation that  taught him how to work well with others and influence diverse groups.  He was UCLA's first sports four letter winner: football, basketball, baseball and track & field. In a famous exchange with Dodgers' General Manager Branch Rickey in 1945, Rickey asked Robinson if he could face the racial animus of opposing players and fans without taking the bait and reacting violently which would ultimately hurt the Dodgers organization.  Robinson was stunned: "Are you looking for a Negro who is afraid to fight back?"  Rickey replied that he needed a Negro player "with guts enough NOT to fight back."  After obtaining a commitment from Robinson to "turn the other cheek" to racial antagonism for the overall benefit of his ball club and to help end segregation throughout MLB, Rickey signed Jackie to a contract.
TONE:   A patriot, Jackie served as an Army Officer during WWII.  Even in uniform he was the victim of racism and had to endure the indignity of a court martial for refusing to move to the back of the bus in Kansas (11 years before Rosa Parks' refusal to do the same gained national attention).   Robinson was acquitted of the prejudice-inspired insubordination charge. On the field Robinson was the target of rough physical play by opponents, suffering slashes from cleats on the base path and being hit by fast balls in the batter's box.  During one game in 1947 vs. the Philadelphia, Robinson was deluged by such unconscionable verbal abuse and racial epithets from the Phillies' dugout that Branch Rickey recalled that single day did more than anything else to solidify the entire Dodger roster around Jackie, who become their moral leader by his example of restraint.  Assessing himself, Robinson said, "I'm not concerned with your liking or disliking me … all I ask is that you respect me as a human being." On the civil rights speaking circuit after his playing career, Jackie would end every keynote the same way, declaring, "If I had to choose tomorrow between the Baseball Hall of Fame and full citizenship for my people I would choose full citizenship time and again."
TENACITY:  During his playing career, Robinson endured death threats, segregation and repeated attempted assaults.  He never cowered.  Regarding Jackie's qualities on the field, Dodger Manager Leo "The Lip" Durocher said, "In baseball, ya want a guy that comes to play.  Jackie just didn't just come to play, he came to beat ya. He came to stuff the G&#%@mn bat right up your a#s!"  Jackie Robinson proved that leadership isn't a one time act, it's a process of influence that requires perseverance with purpose to be effective. Jackie brought that same grit and resilience to the corporate sector as well after his playing career when he became Vice President of the Chock Full O'Nuts Coffee company and co-Founder of Freedom National Bank.
When Jackie Robinson broke baseball's color barrier it was a monumental act, but it would not have achieved enduring significance without his "T3" leadership follow-up to ensure success.  Already age 28 when he joined the Dodgers, Robinson played just 10 years before retiring and being voted into the Baseball's Hall of Fame.  He later became a corporate executive, keynote speaker and civil rights activist.  Martin Luther King looked up to Robinson as "a legend and symbol in his own time," an exemplar of maintaining a non-violent principles in the face of constant provocation.  He passed away in 1972 and was posthumously awarded the Presidential Medal of Freedom.  His #42 is the only number retired by all MLB teams.  Every April 15, the day when he first stepped on the field in Brooklyn, MLB commemorates "Jackie Robinson Day."   Baseball's recently deceased Home Run King, Hank Aaron, said of Jackie, "He was my hero, always has been and always will be.  Not just because of baseball, but because of the type person he was." Jackie Robinson's motivational, sustained, superior "T3" leadership on and off the field will never be forgotten.
Rear Admiral Paul Becker, USN (Ret) is a leadership expert.  He is the CEO of The Becker T3 Group, a platform for his motivational and national security keynote speaking. A former Naval Intelligence Officer, he's successfully led large, diverse, high-performing teams afloat and ashore in peace, crisis and combat.  In 2016, The Naval Intelligence Community established "The Rear Admiral Becker 'Teamwork, Tone, Tenacity Award for Leadership" in his honor