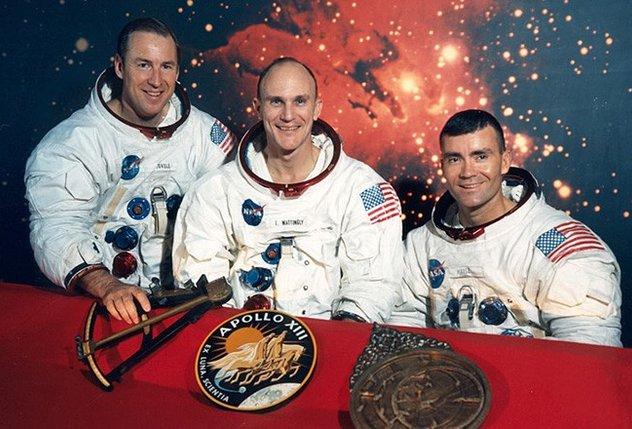 19 Apr

APOLLO 13: OUT OF THIS WORLD "TEAMWORK, TONE, TENACITY" (T3)!

APOLLO 13:  OUT OF THIS WORLD "TEAMWORK, TONE, TENACITY" (T3)!

The Apollo 13 mission of April 1970 is an inspirational lesson of how "Teamwork, Tone, Tenacity®" (T3) can overcome adversity and lead to success.  Commonly referred to as a "successful failure,"  Apollo 13's goal to put two men on the moon was aborted after an oxygen tank explosion aboard their service module two days after takeoff.  Following four harrowing days in space, during which a return to earth of military astronauts James Lovell (Navy), Jack Swigert (Air Force) and Fred Haise (Marine Corps) was in doubt, their command capsule safely splashed down in the South Pacific and the three heroes were helicoptered to the nearby USS IWO JIMA.  What factors contributed to their return?  Teamwork, Tone, Tenacity (T3)!  I rarely share a motivational keynote speech without referencing some aspect of this amazing case study.  Here's a quick look at examples of each of the three T's:   

* TEAMWORK:  Great teamwork begins with great teams.  Many stories about Apollo 13 focus on just two key individuals, Astronaut Jim Lovell and NASA Flight Director Gene Kranz.  However, there were many more.  Lovell's two fellow astronauts and Kranz's hundreds of fellow mission support specialists and engineers were deeply experienced and knowledgeable.  The astronaut-mission control team worked together for thousands of hours prior to this mission. Even when they encountered unforeseen challenges, the relationships they had previously established, and resultant loyalty, trust and candid communication habits paid off when devising completely unprecedented procedures to achieve success. The astronaut-mission support team was powerful because of a diversity of talent and thought, but not of heart and dedication to the mission of bringing three Americans home safely.  

* TONE:  "Houston, we've had a problem."  Those were the words Mission Commander Jim Lovell transmitted back to earth following a catastrophic oxygen tank explosion.  His spoken tempo wasn't rushed.  The volume wasn't raised.  The delivery was poised under pressure, exactly what you'd expect from a calm leader in control.  Over the next several days Lovell maintained that poise and sense of optimism to inspire his crew and NASA teammates.  The same can be said for the mission controllers.  Thomas Jefferson once declared, "Nothing gives one person so much advantage as to remain always cool and unruffled under all circumstances."  That's one aspect of tone.  Another is a strong leader setting the organization's workplace atmosphere for success.  "Failure is not an option," Gene Kranz repeatedly emphasized … and everyone at Mission Control worked accordingly to meet that standard.  When the NASA director said that this could be the worst disaster in the history of NASA, Kranz cut him off. "With all due respect sir, I think this is going to be our finest hour."  Leaders set the tone: If it can get done, it will get done!

* TENACITY:  Everyone involved in helping deliver a successful outcome for Apollo 13 persevered with the purpose of bringing home three men against seemingly impossible challenges and odds.  Engineering excellence and innovation was delivered by hundreds in NASA's Houston Headquarters who worked at their desks for days to provide solutions by dividing extraordinarily complex hurdles into solvable pieces.  At the same time the astronaut-mission support team had to tirelessly devise work arounds to maintain command module functionality at severely reduced power (38 degrees in the spacecraft for several days) with little potable water and improvising a way to filter carbon dioxide while fighting sleep deprivation.  The positive outcome that was achieved would not have been possible without every stakeholder trying harder, thinking smarter and refusing to allow problems overcome solutions.     

NASA's reputation as a high tech, learning organization is second to none.  But organizations don't accomplish things, people accomplish things.  The Apollo 13 story is one of motivational leadership where people accomplished things … where the tools of "Teamwork, Tone, Tenacity®" (T3)  helped turn tragedy into triumph!