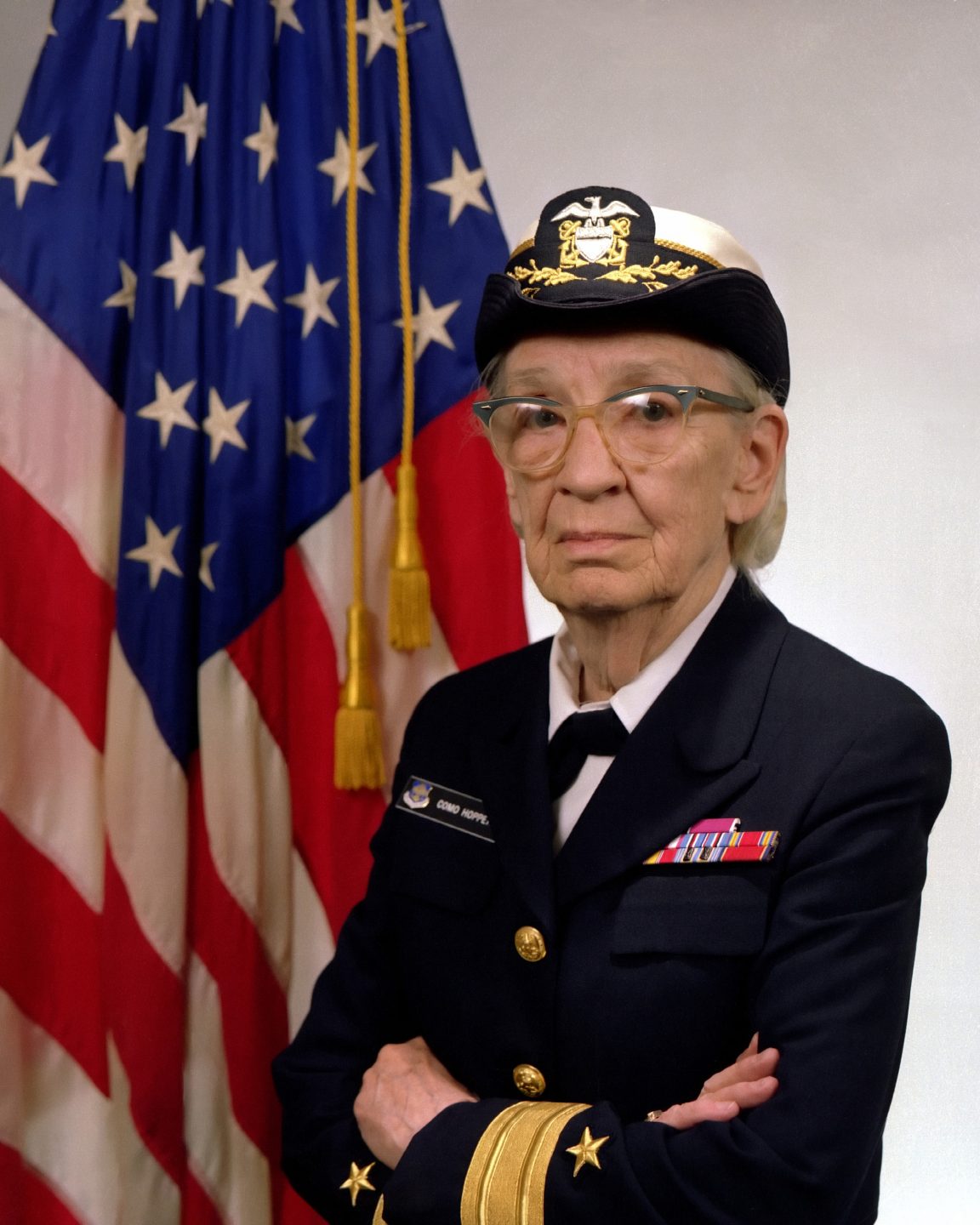 30 Dec

"AMAZING GRACE": REAR ADMIRAL GRACE HOPPER'S "T3" LEADERSHIP

The clock in Navy Rear Admiral Grace Hopper's office ran counterclockwise!  "Amazing Grace" – as she was known by admirers – saw things differently and urged others to think unconventionally when tackling tough tasks.  This pioneering computer scientist and programmer was the driving force behind the invention of COBOL plus other modern programming languages and was the first to use the word "bug" for an IT problem when she discovered a moth inside a malfunctioning mainframe!

Admiral Hopper's role model leadership broke gender barriers in previously male dominated STEM (Science, Technology, Engineering, Math) fields.  Her soft spoken subject matter expertise built successful mission-oriented organizations.  Her positive, innovative approach inspired others to think and act differently, and a fierce determination to serve her nation and solve wicked problems resulted in historical achievements.  In short, RDML Hopper's personified "T3" leadership.  Here's How:
TEAMWORK: Admiral Hopper was born in 1906.  She graduated from Vassar College and received an MS + PhD from Yale.  A patriot who wanted serve in uniform during World War II, she was denied enlistment in the Navy because of her 34 year old age and small size.  Grace refused to accept a decision and joined the Navy Reserves instead!Throughout her career, whenever joining a computer team or building one of her own, RDML Hopper reflected,

"I'm more interested in the future than the past."  When it came to teams she always looked ahead and focused on potential, continuously searching for talent and training her organization for the possibilities of what could be in a dynamic field. 
TONE:  "A ship in port is safe.  But that's not what ships are built for." RDML Hopper knew you can't expect to be innovative or productive without pushing boundaries to tackle problems.  "

I always tell young people, "Go ahead and do it.  You can always apologize later."  As a leader who knew had to motivate an audience and gain genuine buy in for the substance of her work, Grace was

famous for her nanoseconds visual aid often used during keynote speeches and presentations. People (such as Admirals and Generals, she would often remark) used to ask her why communication took so long to travel to and from a satellite. She then handed out pieces of wire which she called "nanoseconds" that were 11.8 inches long – the distance light travels in a vacuum in one billionth of a second.  She would then point out there were a large number of nanoseconds between her location and a satellite!  She later used the same pieces of wire to illustrate why computers had to be small to be fast.  Many of those who attended her lectures, myself included, still keep their "nanosecond."
TENACITY:  RDML Hopper was a curious child. At age seven she disassembled seven of her home's clocks to discover how they worked.  She also had supportive parents who always let her continue to tinker with one, but had her reassemble the other six.  Just as she refused to accept an initial "No" from joining the Navy, she never accepted that she couldn't develop a computer language which used English because she was told by others when joining the Harvard Mark I computer project in 1944 that, 'computers didn't understand English.''  So she made computers understand English and developed languages for them.    "The only phrase I've ever disliked is 'We've always done it this way."  This daring spirit explains the counterclockwise timepiece on her wall.   
RDML Hopper's legacy as a motivational leader is incomparable.  She epitomized both academic and emotional intelligence and proved the value of diversity in workplaces where previous unconscious biases probably sub-optimized inclusiveness and contributions from all.  She's the recipient of the Presidential Medal of Freedom, National Technology Medal and is a member of the National Women's Hall of Fame. RDML Hopper is the namesake of a U.S. Navy ARLEIGH BURKE-class Guided Missile Destroyer (DDG 70), the Office of Naval Intelligence's Information Services Command, the U.S. Naval Academy's Cyber Security Studies Center, one of Yale University's undergraduate colleges and numerous awards.  In  the world of pop culture she was a guest on The  Letterman Show in 1986 and the subject of a "Google Doodle" in 2013. She was truly, "Amazing Grace."
Rear Admiral Paul Becker, USN (Ret) is a leadership expert.  He is the CEO of The Becker T3 Group, a platform for his motivational and national security keynote speaking. A former Naval Intelligence Officer, he's successfully led large, diverse, high-performing teams afloat and ashore in peace, crisis and combat.  In 2016, The Naval Intelligence Community established "The Rear Admiral Becker 'Teamwork, Tone, Tenacity Award for Leadership" in his honor.