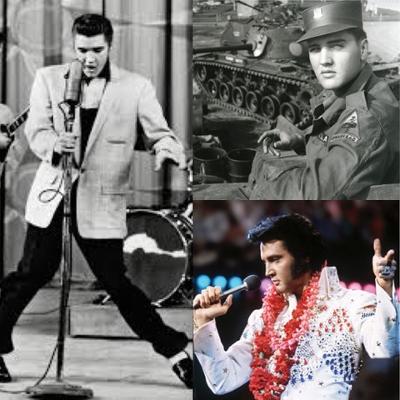 08 Jan

ROCK 'N ROLL "T3": ELVIS! ⚡️

Elvis Presley, "The King of Rock 'n Roll" was born January 8, 1935.   He was a daring, charismatic pioneer of a new style music (and dance moves).  His fusion of white country and black rhythm & blues changed American pop culture forever.   As a leader, Elvis was the full package of "Teamwork, Tone, Tenacity®" (T3).
TEAMWORK:   Extraordinarily generous with charitable organizations and inpiduals throughout his career.  Beloved by his backup performers and business colleagues: "The Jordanaires," "The Taking Care of Business Band" and "The Memphis Mafia."  Elvis was especially public service minded: In 1956 his polio vaccine was aired on television which helped convince teens and young adults – groups who thought they weren't at risk – that they needed to do this in order to defeat this deadly disease.
TONE: Patriotic.  Enlisted in the Army at the peak of his fame in 1958.  It would have been easy to seek a waiver and avoid service but he did not.  After the war Elvis raised the funds necessary for a new USS ARIZONA Memorial in Hawaii with a benefit concert in Pearl Harbor.
TENACITY:   The Beginning: His first performance at The Grand Ole Opry in 1954 was a disaster.  Reviews were terrible and suggested he pursue a career driving a truck.  Elvis persevered with purpose, practiced with a passion and finally broke through a couple of years later.  The Comeback:  After seven years off of the music circuit while making films, he returned in grand style in 1968, culminating with the first concert ever broadcast on television "live via satellite" from Hawaii in 1973.
Elvis was one of the greatest music icons and inspirational entertainers of all time.  He was successful as a motivational leader because he worked well with others, never tried to be anyone but himself and showed resiliency when faced with negative reactions from others.  In summary, "The King of Rock 'n Roll" exemplified "T3" … Viva! ⚡️
Rear Admiral Paul Becker, USN (Ret) is a leadership expert.  He is the CEO of The Becker T3 Group, a platform for his motivational and national security keynote speaking. A former Naval Intelligence Officer, he's successfully led large, perse, high-performing teams afloat and ashore in peace, crisis and combat.  In 2016, The Naval Intelligence Community established "The Rear Admiral Becker 'Teamwork, Tone, Tenacity Award for Leadership" in his honor